Regain the Class Gift Crown!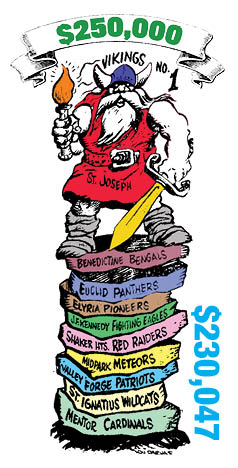 Our 40th reunion gift of $100,000 was the largest ever for the school until just a few weeks ago: to their credit, the SJ'69 – 50th Reunion raised $125,000, which is terrific for VASJ! While we salute our '69 brothers and acknowledge they hold the Class Gift crown …for now…with your help we hope to double their results and regain the crown in September 2020! – Don Dailey

We are asking alumni to consider three gift options:

1. Create annual unrestricted scholarships for needy students who are struggling to meet their tuition and fee requirements (currently $9,700 per year) but still want to attend our school.
Two donation categories addressing some pressing operating and/or academic needs, as identified by our school President, Principal, Athletic Director, Interim Director of Development and Director of Finance. These donations will have an immediate effect and will serve to enhance the quality of education provided to all our VASJ students:
2. "Music Matters" program to help reinvigorate music programs within all grade levels in the school.
3. Athletic Facilities for major renovations to existing all-sports facilities: weight room, locker rooms and potential replacement of the Purple Palace scoreboards.

Some details about contributions:

Donations can be funded over 2-3 years if desired; accordingly, you may want to consider making such donations as a Qualified Charitable Distribution (QCD) from any traditional IRAs you may have. In lieu of claiming a charitable itemized deduction for the donation, the QCD will directly reduce the amount of the Required Minimum Distribution (RMD) from the IRA that you would otherwise pay income tax on.
Click here to donate (you will be sent to the VASJ website)
Honor Roll – List of donors, so far